Introducing the NEW IMPROVED A5 Note Organiser – TABi RED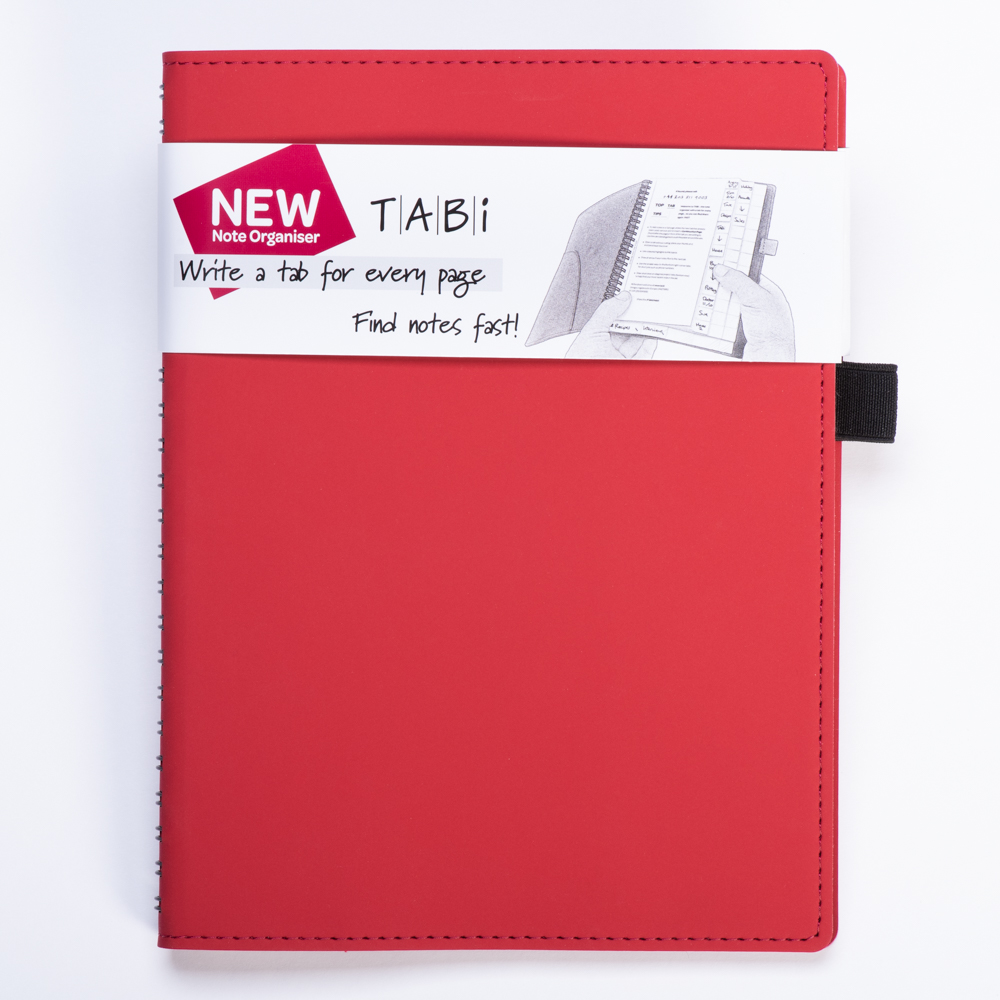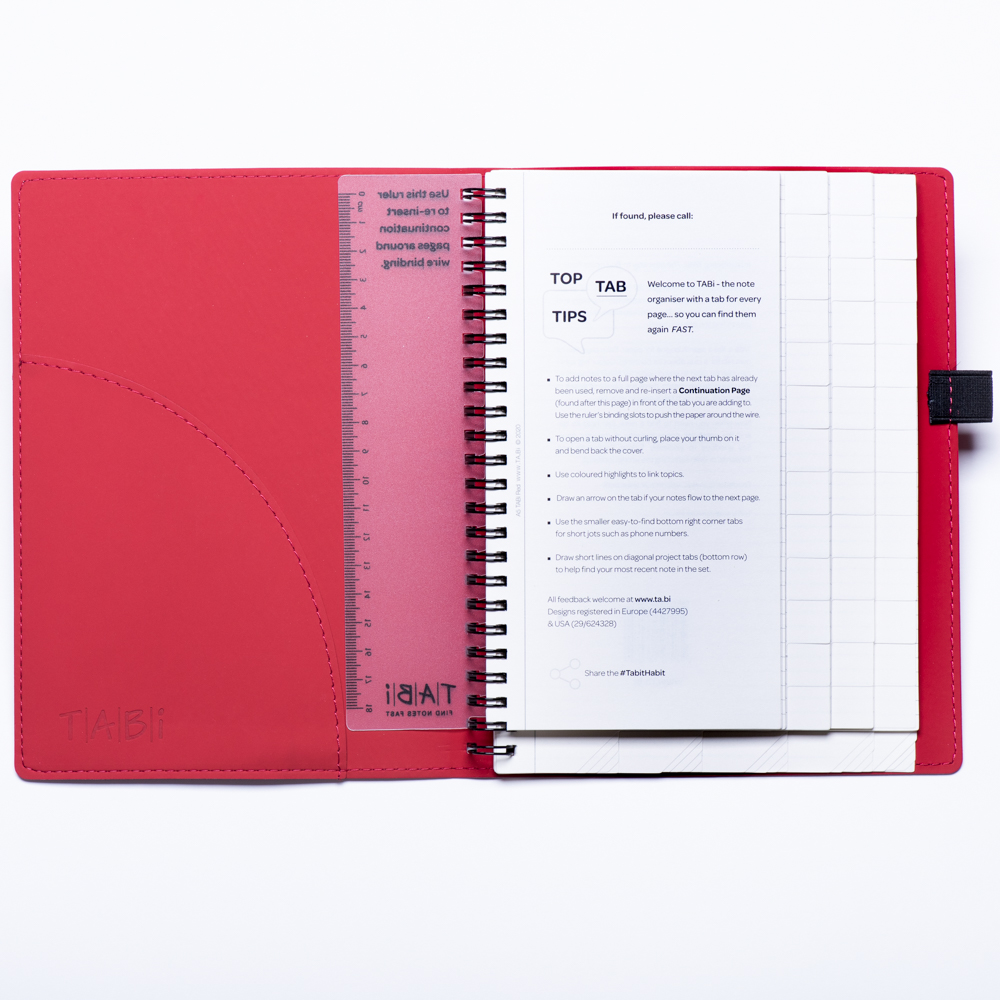 The distinctive A5 TABi RED note organiser has a host of new features:
A luxury soft touch, long-lasting polyurethane cover in a distinctive red that stands out in a crowd
All pages have ruled lines on the right and contemporary dots on the reverse for graphs, sketches, doodles or more writing
Pages are printed on high quality 100 gsm responsibly sourced ivory tinted Forest Stewardship Council (FSC) approved paper which doesn't let ink show through

39 individually tabbed sheets
4 sets of 5 pages each for projects (each set has diagonal tabs so you can quickly find your most recent note)
A fifth set of 5 pages with quick-find corner tabs for short jots like phone numbers
8 continuation sheets that can be removed and re-inserted where you've already filled a tab with notes and the next tab has already been used

A ruler which doubles as a tool to help re-insert continuation pages
A pocket in the front cover for receipts and business cards
A pen loop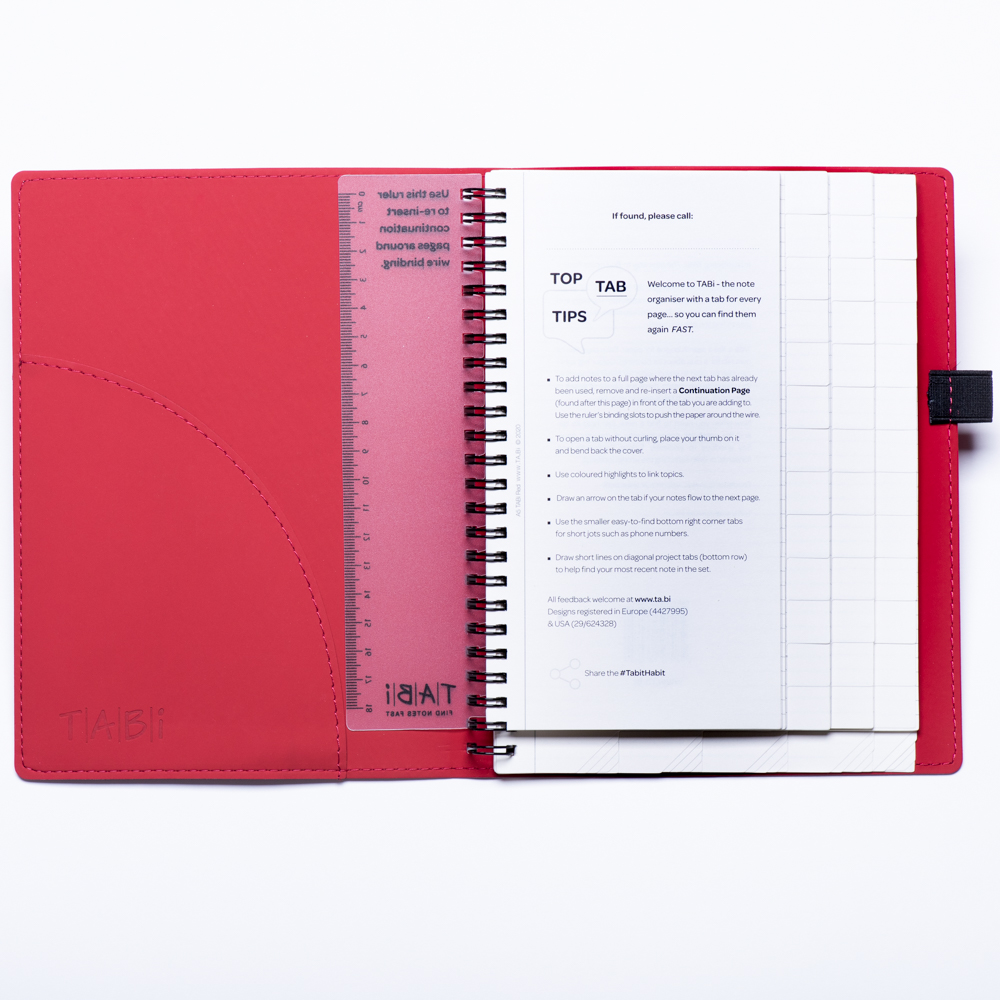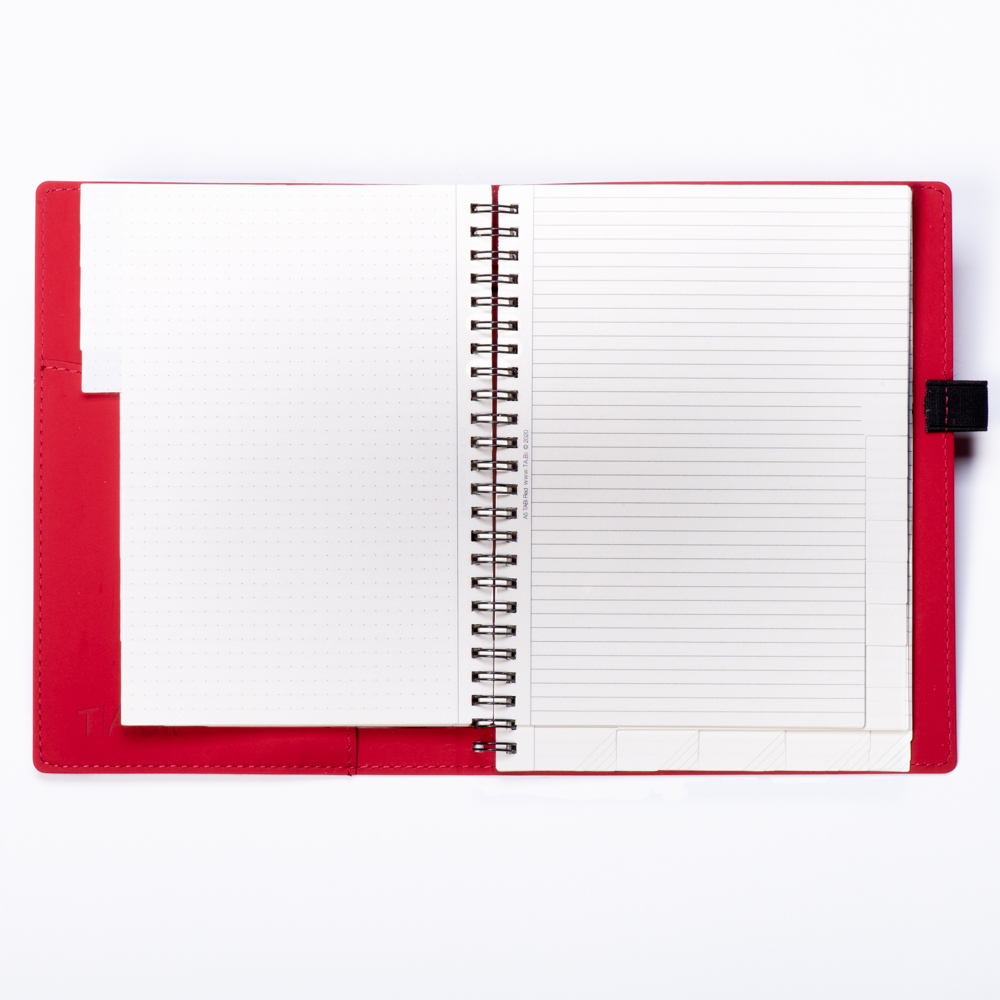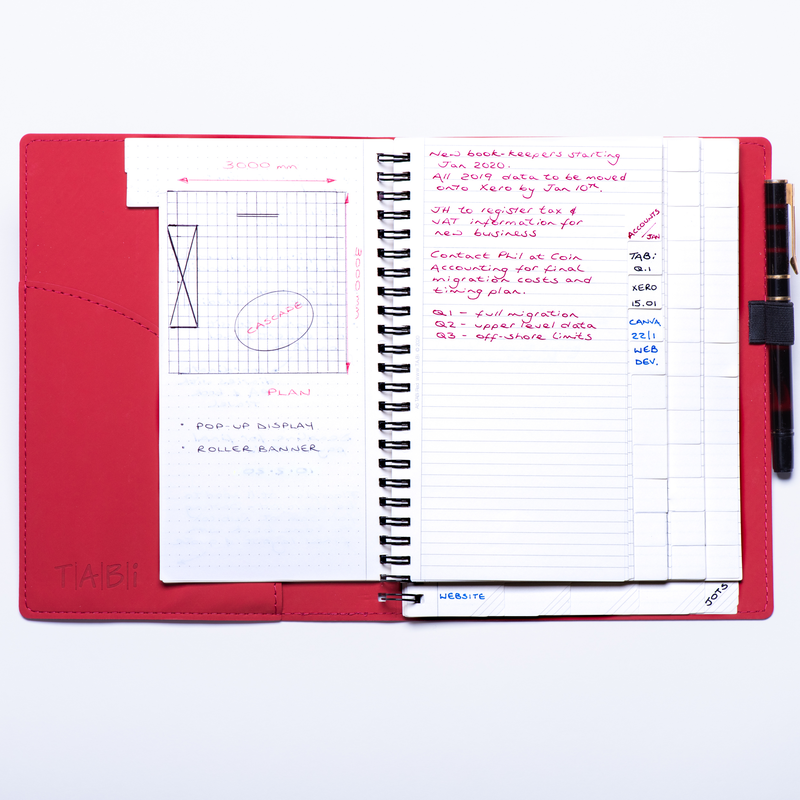 How to use the continuation pages
Sometimes you want to add notes to a tab, but you need more space and the next tab has been used for something else. Your options are:
Start a new tab somewhere else and link it with coloured highlights or draw arrows pointing to the linked tabs
Or insert a removable continuation sheet before or after the tab you've filled.

Some of the TABi Team prefer to add these pages before the tab they've filled, others think they should be added after the filled tab. Your choice!
You will find the removable continuation sheets at the front of the book after the introductory Top Tab Tips page and before the first tab.
Here's how to use them:
Pull out a continuation sheet (only continuation pages have re-usable binding slots. Tabbed pages can't be moved).
Remove the ruler and line up its slots on top of the continuation sheet's slots
Place the combined slots on the wire binding
Slide the tip of a finger down the ruler, clicking each slot in place around the wire
Remove the ruler
Some tips on using your TABi CLASSIC or TABi RED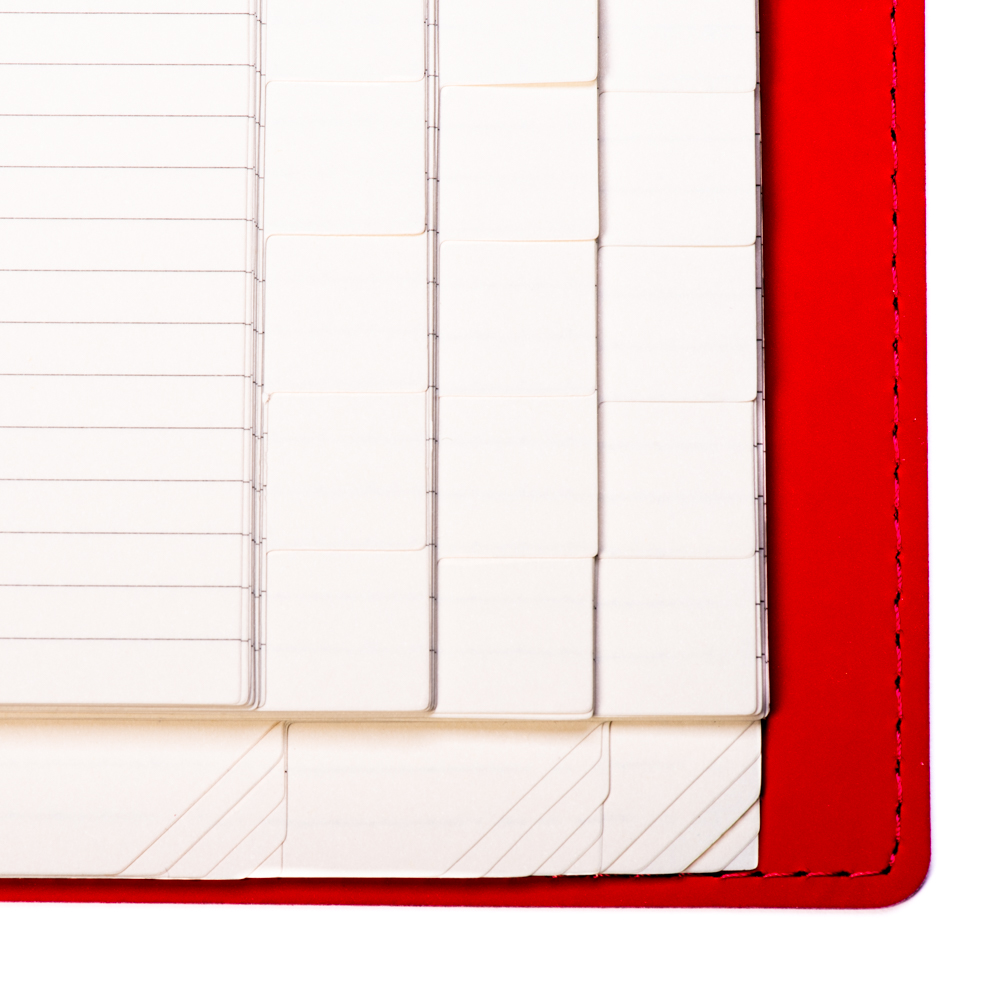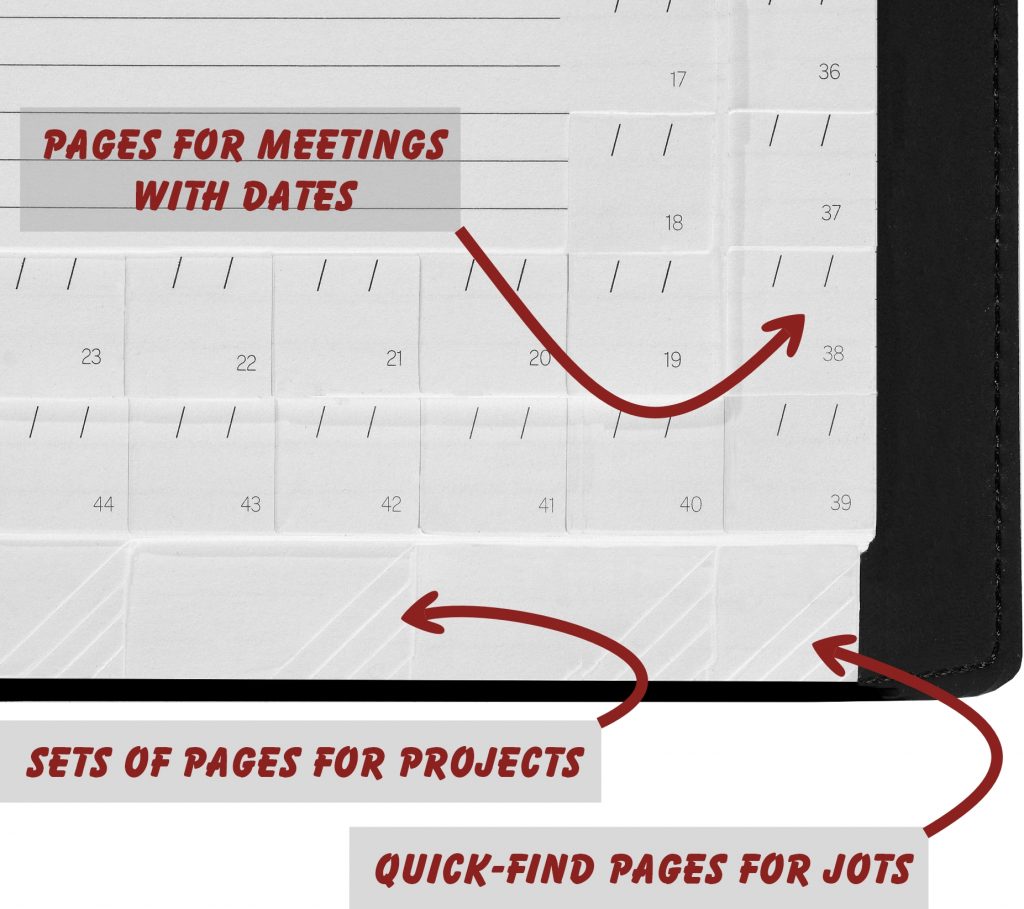 TABis are notebooks where every page has its own unique tab for you to write something that gives you a clue about what's on it. Depending on your job, hobbies, lifestyle, writing and note taking habits, there are many ways to use a TABi. Here are some ideas:
To open at a tab without curling it, place your thumb on it and bend back the cover (that's why TABi covers are flexible).
There are several page sizes in a TABi. If you think you are going to make a lot of notes in a meeting for example, choose a tab nearer the end of the book where pages are larger. With a TABi, it doesn't matter which page you use. You will always find it again.
If you are going to keep adding notes to a particular topic, use a project set of tabs along the bottom. Make a small mark on the diagonal edge of the latest tab in the set to help you find its most recent page.
Use the bottom right tab set for short jots like phone numbers. It's easy to find quickly and there's enough room to write the word JOTS on the tab.
If your notes flow to the next page, draw an arrow on its tab.
Use coloured highlights to link topics. It may help to write 1, 2 etc on each subsequent tab in a topic to help you find your latest note. You might also draw a small arrow on a previous tab pointing in the direction of the next tab for that topic.